Special Offer for ComBots Cup VI Tickets
ComBots Cup VI, the world heavyweight championship returns to San Mateo, Saturday and Sunday, Oct 29-30th. All the smashing, crashing, fire-breathing, ear splitting adventure that you've grown to love, back for Halloween mayhem!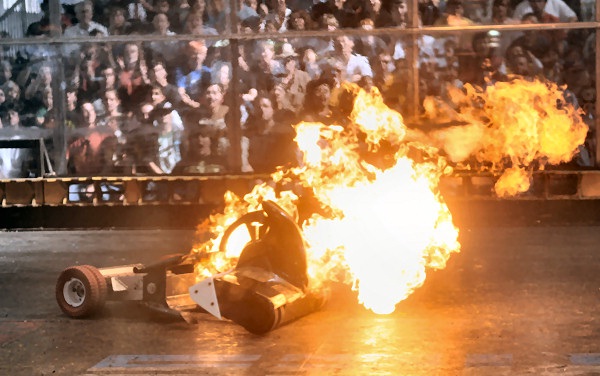 For all of you loyal ticket buyers, we're offering an early-bird special! In addition to the usual $5 discount for web-buyers, we're offering an additional $5 off all purchases through September 30th. Don't wait til October to buy your tickets.
Join us to watch all the fights live and see who wins the Cup, and whose robot goes home in pieces. Feel the floor shake as reigning world heavyweight champion Original Sin defends its back-to-back titles against Sewer Snake, Last Rites and other 220-pound robots from around the world. Fun for the whole family - if your family likes Total Robot Destruction!
Thrill to all the good parts of a NASCAR crash as the bots try to destroy each other in our bulletproof ComBox. It's all the excitement of monster trucks - only with Flame-throwers! And Spinning Blades of Doom! And Steel Flippers!
Buy tickets here: http://robogames.net/buy-cup.php
When checking out, use coupon code "earlybird" to get your extra $5 discount.
ComBots Cup VI - Sat/Sun, October 29-30th - 2pm-7pm
San Mateo Event Center
If you didn't see our April show in person or on Discovery's Science channel, you can watch it here: http://www.youtube.com/watch?v=UdH4VXnEBz0